Ran in Starkey park on the bike trail with Chris H. up until 6.5 miles, then he went on further. Turned back and had a good return trip. Saw a bobcat and 2 deer. Glad to finish the week with some decent miles. I kept the last 6 miles under an 8:00 pace and felt pretty good both breathing wise and injury wise - 7:54, 7:39, 7:40, 7:38, 7:38, 7:41
Later in the afternoon we started talking about our oldest dog, who has been with us for 17 years, and was not a puppy when we got her. She had been having trouble walking for quite some time and always looked in pain and for a while now was steadily losing bowel/bladder control. She had some good moments on some days but it was just not getting any better. So, we made the decision that it was time to put her down.
Here is Chelsea from 6 years ago, along with Andy, myself, and Thomas.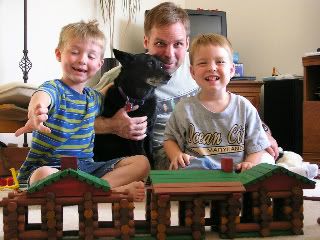 So, long Chelsea, you will be missed.