Super Tunnel Marathon Race Report
Start temp, low 60's , ending temperature 72 degrees
3:28:56 gun time, 3:28:51.3 chip 49th overall, 39th male, 7th age group
Day Before: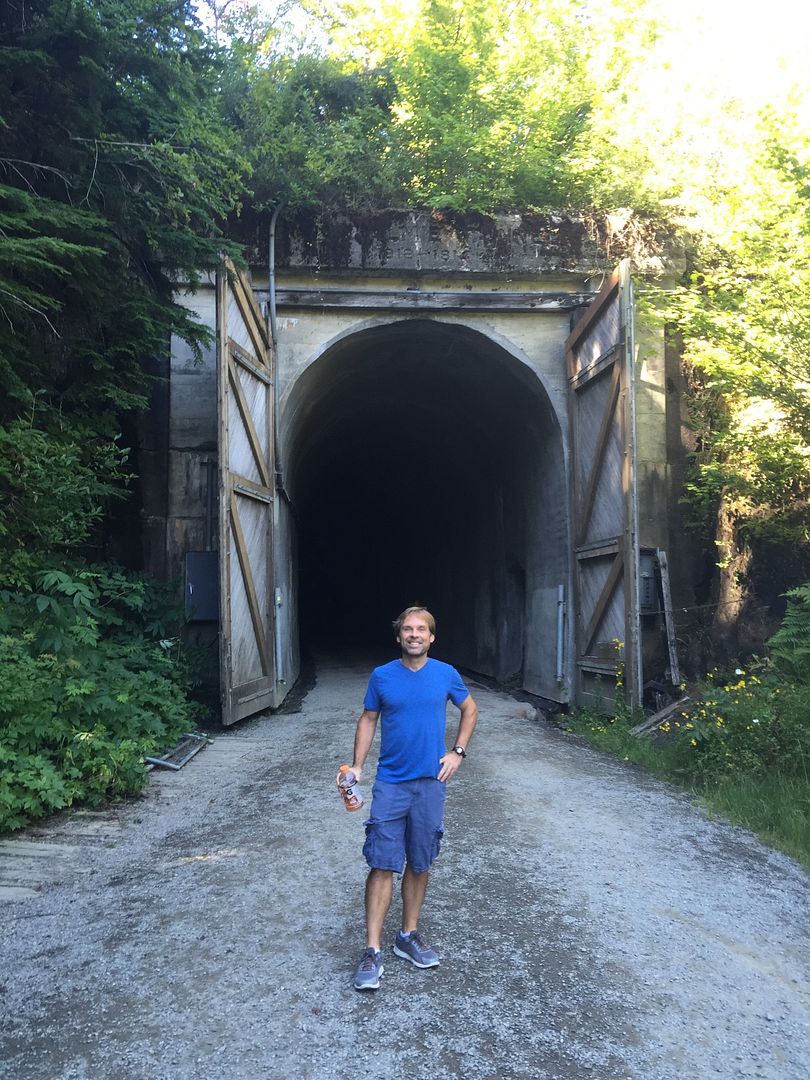 At end of the race:
Glad to have the chance to try out this race. Was hoping for an enjoyable time and if everything went well maybe a BQ. Day before was hot. I had somehow managed to trasnport Florida summer weather to the Pacific Northwest. Everyone there was talking about the heatwave. Fortunately, the cooler, back to normal temps returned the morning of the race.
Took the bus from near the finish line to the start line at Snoqualmie Pass, arriving a little over an hour before the race. I had a long sleeve shirt on but was pretty chilly. Had a chance to talk to several people before the race, always fun to hear everyone's stories. Watched the early starters get going at 7:00 and then waited around until the regular start at 8:00.
The race starts about a quarter mile from the tunnel entrance. The volunteers provide you with one or two drop bags, with one bag for stuff you don't need until the end of the race and a smaller one to carry and then drop off after exiting the tunnel in case you want to drop off your flashlight. (The tunnel is not lit at all so a flashlight, headlamp, or both is highly recommended). And even with the light, I didn't want to risk stumbling (surface is a little uneven and there are some small potholes/puddles from the dripping water) and wanted to start out at an easy pace anyway. So, I fell in behind the 3:40 pace group which felt like a good warmup pace.
GPS signal quickly goes away but they do have mile markers each mile, including inside the tunnel. I missed getting my split at the first mile, but at the second mile we were at 16:33 (8:16 pace) which seemed pretty good. The tunnel was a little over two miles long, so the plan was to pick up the pace after exiting and try to run about a 7:40 pace.
Unfortunately, I'm not sure what quite happened, but I seemed to take forever getting my stuff together to drop off (everyone else seemed to start getting their stuff together while they were running and were able to quickly toss their stuff). I also experience a slight wardrobe malfuntion with my running shorts not tied tight enough so that they were falling down. By the time I was all set and had made it a little bit farther to the 3 mile marker, saw that my time was 26:46, or about a 8:55 pace. The 3:40 pace group was long gone and the 3:30 pace group seemed impossibly far ahead.
But, in a way it was kind of fun as I caught up to and passed people. I was soon up to and then passing the 3:50 pace group in about a mile or so (I hadn't even noticed them passing me), and then in about 5 miles was up to the 3:40 group. I still felt impossibly far behind but kept on going on past the 3:40 group and hoped I would not be seeing them again. I kind of head to pull over for a pit stop but decided I wanted to get enough distance so they could not pass me.
So, basically from miles 3-13 was a game of trying to catch up to the 3:30 group. It was also all downhill at a very steady 80 feet per mile. This was after all an old railbed designed for trains making a smooth stead climb of 2000 feet up and over the pass, so I'm not sure if you can find a more consistenly graded marathon course.
I'm not sure if the next couple of miles were a mistake, but once I caught up to the 3:30 group I decided to hang with them and just relax with them and then start pulling ahead. Maybe that cause me to break my pace groove or maybe this is what saved me. So, when I finally made my move and got ahead of the group it was a bit of a struggle. When I passed the 3:40 group I had decided I would make sure I put a good gap between myself and the group before even thinking about slowing down for anything such as taking a gel or making a pit stop. So, I had been putting off a pit stop for quite some time when I finally decided to take care of that. Unfortunately the 3:30 group cruised right by me and I lost my lead then had to speed up a bit to catch back up. Something similar happened one more time at mile 18 when I slowed a little while taking a gel. Catching back up again was difficult and at mile 19 I had fallen behind and was starting to lose them.
At about mile 21ish, one of the 3:30 pacers had fallen back a little bit while going through an aid station. He was hitting a rough patch. I passed him for a little while but eventually he would catch back up to me. Mile 20, 21, and 22 were pretty decent but mentally I had been telling myself to just try and make it to mile 22. So, at mile 22 I slowed again and felt like I wouldn't be able to get back on track again.
When the 3:30 pacer who had fallen back caught up to me again he told me "we were right in the 3:30 bubble". I wasn't sure exactly what he meant because the 3:30 group seemed to be way ahead. Part of me, in my head thought "so, that's nice, but this is as fast as I can go, but thanks". Then he starts pulling ahead and catches up to a woman who had also fallen behind the group a little bit.
Finally, with a little under a mile to go I looked at my overall time which was 3:22:xx and I suddenly realized I could turn this into a good race and finish strong and my pace started to improve and ended up finishing mile 26 at 7:36 (and this was despite the fact that the path had a thick coating of fresh gravel which was much looser than the hard packed dirt/gravel I had been running on). After the mile 26 sign, it was a straight shot in. I was extremely grateful for the encouragement of the pacer and it always amazes me how much of a mental race a marathon can be.
– (no gps inside tunnel, did not record lap at mile marker)
16:33 (first two miles, still no gps, recorded lap at 2 mile marker)
10:13 (included after tunnel bag drop) (26:46 first three miles)
7:28
7:20 +0:45 (caught up to 3:50 group)
7:20
7:37 +0:10
7:18 (caught up to 3:40 group, nervously passed them)
7:29 +0:19
7:20
7:28
7:42 +0:38 (36 seconds ahead of 8:00 pace)
7:12 (slowly closed in on and finally caught up to 3:30 pace group)
8:00 (decided to hang with the group for a couple of miles and then pick it up)
8:08 +0:51 (1:59:37 total, 23 seconds ahead of 8:00 pace, still hanging with the group)
7:38
7:49
7:52
8:25 (struggled to get under 8:30 for this mile, was way behind 3:30 group, started thinking I might get 3:37 if I slowed down and lost a minute per mile)
7:59 (held it together the next three miles)
7:52
7:55
8:23 (really felt like I was dragging here, one of the 3:30 pacers had dropped back at an aid station, then passed me, said we could still make it)
7:46
8:25
7:36 (after passing the 25 mile sign and looking at my overall time realized I could make it under 3:30 and picked it up, caught back up to and passed straggling 3:30 pacer)
1:30 (0.23 @ 6:45)