Red Mule Runners 5K in Brooksville, FL, 1st place masters, 19:13 time. I was hoping to cash in on some lessons I learned last week. Last week's race was cooler temperature wise but this week's race was flatter - although the course was quite slippery.
Woke up this morning at about 5:15 and was on the road by 5:46. The race was at a place called Lake McKethan Park just north of Brooksville. I couldn't find an address or any official information about the park (except for an article about how the police had been cracking down on "cruising" activity in the park, and that lots of races have been held there).
As I was driving there I felt hungry so I stopped at a convenience store for a PowerBar energy bar and a bottle of Gatorade, then continued on. I found the park ok after just one wrong turn. Got my bib and then got ready to warm up. I talked briefly to a guy named Ernie that had just done the DesNews marathon. He was on a quest to do a second round of a marathon in all 50 states.
Warm up felt pretty good, did a total of just over 3 miles with about 4 good strides thrown in. But, by the end of the warm up I was pretty hot and sweaty so decided this would be a no shirt race for me.
The course was a single lane paved road around the lake. We would do 2 full loops and then go off road for the last 0.2 miles. There was also an off-road section, maybe 200 feet long near the end of each loop. When I was on my warm up I noticed about half of the course was very slippery, especially a section where there was a wet and oily strip down the center. As usual, I was not aggressive enough in shoving my way up to the front. The race was loaded with high school kids. This race is pretty well know locally as a tune up race before the start of HS cross country. Also, the starting line was wider than the road, but everyone had to be on the road by about 150 feet. I had a tough time getting on the road and getting in front of the people that went out to fast, something that is hard to practice for during training runs.
About 0.4 miles into the race I was still only at a 7:10 pace. The line thinned out and I was able to start picking people off. At one mile there was someone calling out times, 6:14 for me. My Garmin was slightly off, but in a good way, it said I was going slower than I really was.
I got about 1 second faster per mile on each mile. At about 2 miles, I passed the last masters runner that I knew of. I had no idea how far ahead the lead pack was. As I was on the final off-road portion I managed to pass one more person. I was pleased to see the time clock was still in the low 19:xx's as I approached it. The coach of one of the HS kids that finished about the same time as me was there and said to him "19 minutes, we can work with that, I'll get you down to 18 minutes in one month" - that sounded good to me so I said "what about me?" he smiled and said it might take longer than a month to get me down to 18 minutes.
After the race, I even managed to get in another 3.5 miles or so for a cool down.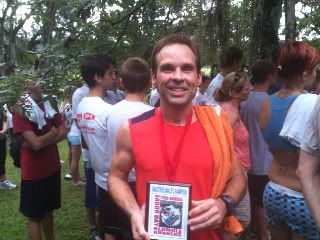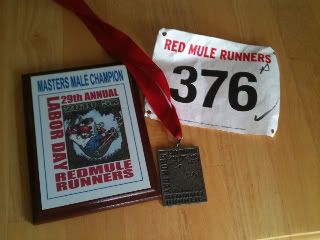 Lead pack - I didn't actually see these guys but it was a good picture showing the course.