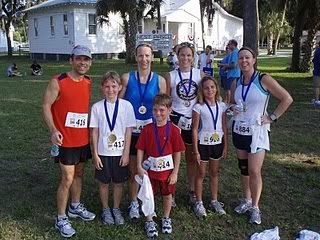 Woke up at 4:45, got ready, warmed up a little, and started running at 5:21. I had a mission this morning. Get in as many miles as possible by 7:30 at the latest and meet Jenny and the boys at Sims park for the RAP River Run 5K. To get there, I would have to run on roads I had never run on before and didn't know how runner friendly they would be. Fortunately, since it was early enough in the morning I knew that they wouldn't be busy.
I started out running on my usual morning route heading past the golf course. I stopped briefly at the water fountain to try and top myself off with water. The air was warm and humid but tolerable - the coolness of the past few days had slipped away. I ran up Little Road, past 54 and continued north. There was a stretch of that road which becomes lonely, no buildings of any kind, just trees. Jenny called me on the phone about 6 miles into the run to see where I was and to ask if I had fed the dogs.
Made it to Massachusetts Ave and turned left there. I was surprised to see I very wide sidewalk marked off for bicycles and pedestrians. I was running on that for a bit but worried about having run on so much concrete so I ran on the road when there were no cars. Another surprise was a hill (but only maybe 30 feet or so, big for around here). As I neared the end of that road I could see a police car's lights flashing to mark the end of the race course. I turned left onto Grand Ave which runs along the Cotee river. I've always wanted to run along there and this morning was the perfect time with it closed. There were already volunteers along the route setting up.
I made it to Sims park at 7:00, then turned around and ran back up Grand, then turned back again towards Sims park. Jenny called to say that she had just arrived. So, I hurried up, met her and the boys by where they parked and got my race bib. Did a short warm up with the boys then we headed over to the starting area. Besides my two boys, I ran with one of Jenny's friend's daughter.
Neither of the boys had really run since the 5K they did this past spring, other than the sprinting they do in Tae Kwon Do, so there were not expectations or goals, just run and finish the race. So, I thought it would be pretty casual. My youngest one, takes off at the start and gets on a pretty good pace, and he was holding it really well for the first mile and on into the second mile. He was determined to not let his older brother pass him up. I kept telling him to take it easy and relax, but that didn't seem to do any good. So, about two miles into the race he started having some problems, slowing down and taking walk breaks. But he didn't want to stop for long afraid that his older brother would get ahead of him.
The last half mile, there was much screaming. I'm not sure if he had a cramp or was over heated but something was hurting but he didn't want to quit. His last race was on a pretty nice morning, much cooler than this morning, but he was way ahead of pace despite the slowing down late in the race. The crowd was great, cheering him on, saying things like, "That's one tough guy" and "look at that little kid go!".
At the 3 mile sign I thought that he actually might not finish it or just walk the rest of the way, but when I was able to point out the finish chute to him, he suddenly found his legs again and sprinted across the finish. They even announced his name as he crossed. 28:30, new PR by one minute.

Meanwhile, his older brother had gone ahead and finished almost under 27:00, although not a PR for him, it was an un-paced PR.
Jenny finished first in her age group which will earn her a free running outfit that has a deal going on where if you where they brand and win (age group or overall) a race, they will give you a free pair of shorts and top.
And then, before too much time past and I got caught up in the post race fun, I ran back up Grand on an out and back to get my last 2 miles in to make it 20 for the day. It was fun to run back up and down the course now that it was mostly empty, except for a few walkers and the remaining volunteers still cheering them.
It was a pretty big race for a local 5K, about 1,000 people today, having grown from about 400 people 2 years ago.